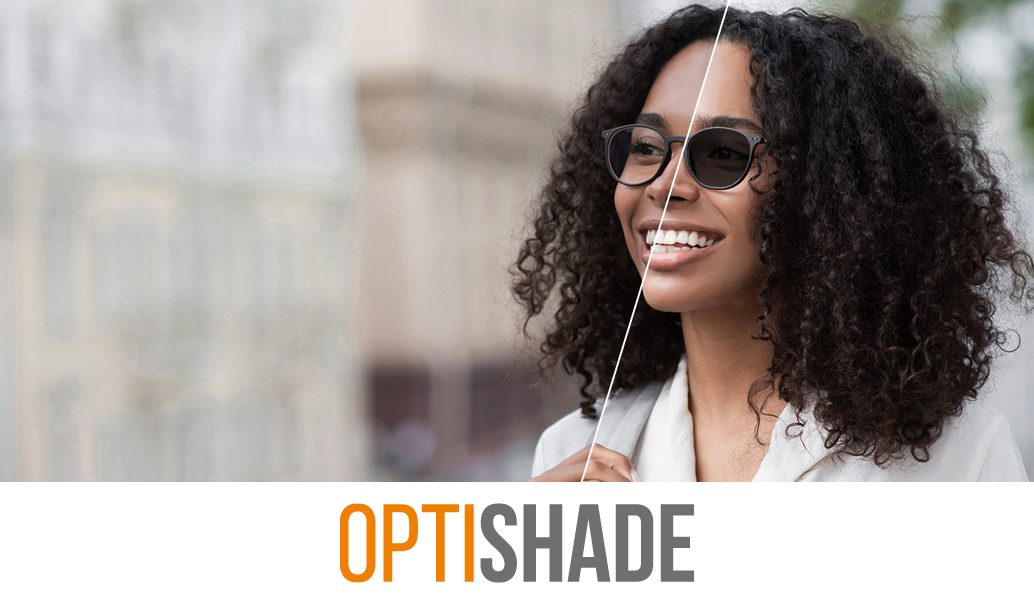 PROTECT YOUR EYES WITH LIGHT INTELLIGENT LENSES
Optishade lenses are designed to change their tint automatically based on the level of UV exposure.
Optishade lenses are clear when you are indoors or in low-light conditions, but as soon as you step outside into bright sunlight, they begin to darken to protect your eyes. They are able to do this thanks to a special photochromic technology that is built into the lenses. The Optishade lenses offer 100% UV protection (up to 400 nm). This means that they block out UV rays that can damage your eyes. So, with Optishade lenses, you can be sure that your eyes are getting the protection they need when you're out in the sun.
Optishade lenses have a quick fade back speed when you move back indoors or into lower light conditions (residual colour after fade back of approximately 10% absorption). A hassle-free solution for those who want to protect their eyes without swapping from glasses to sunglasses all day.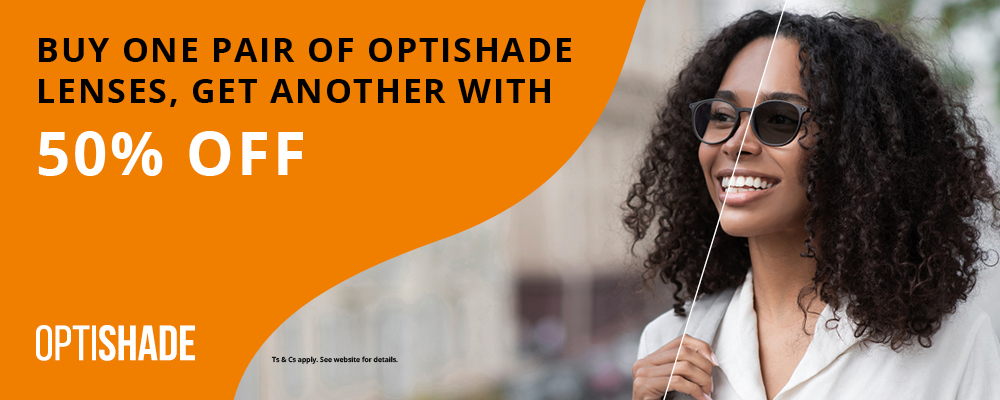 KEY BENEFITS OF OPTISHADE LENSES:
100% UV protection (up to 400nm)
Available in two colours – Brown & Grey
Reduces the need to swap between glasses and sunglasses
Lenses darken to 25% transmission in around 90 seconds
Fade back speed of around 3 minutes when back indoors
Light absorption – maximum of 75% Light transmission – maximum of 25%
Residual colour after fade back of approximately 10% absorption 
IDEAL PRODUCT FOR:
Someone looking for more affordable photochromic lenses than Transitions

A patient who want glasses to easily adapt from inside to outside


AVAILABLE WITH:
Stock single vision lenses 

Surfaced single vision lenses

Progressives lenses

Lifestyle lenses – Drivesense
Optishade Promotion
Usual Terms & Conditions apply. 
Must be for the same patient – same vision type and prescription

First pair of Optishade at customers agreed pricing structure either surfaced RX or stock finished 

Second pair 50% off standard price list using promo voucher code JKOPTI1 must incorporate either IXT or Hydro+

Note excluding Bifocals
Discount will be applied to the order with the lowest value
Time scale to redeem voucher will be 60 days from date first pair ordered
Offer valid from 1st March 2023 – 30th June 2023