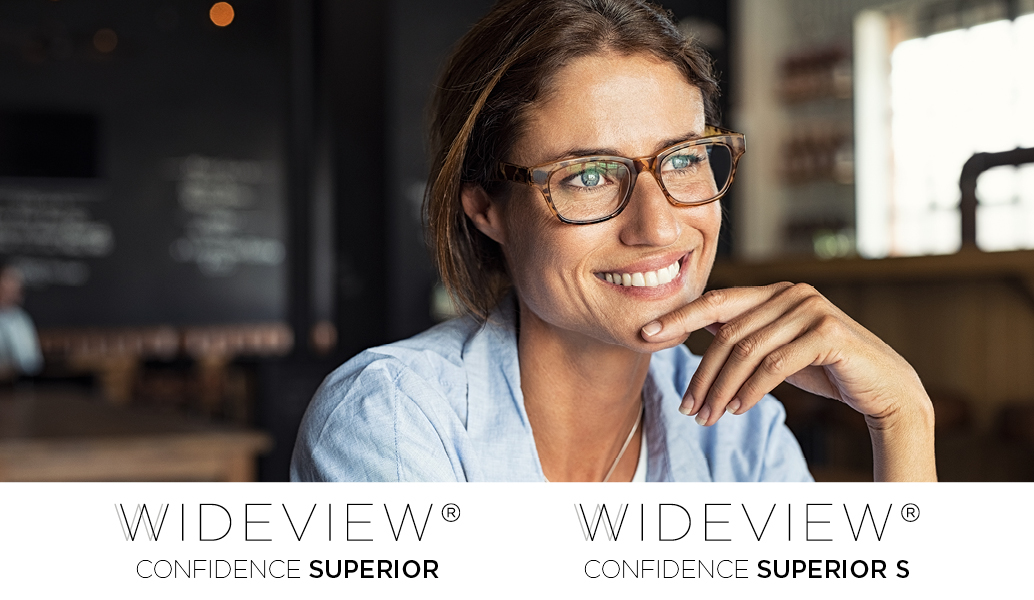 THE ULTIMATE TAILORED LENSES WITH CAMBER TECHNOLOGY
Varied front base curve that provides natural, panoramic vision whilst offering an enhanced area for close work.  
This is the ultimate tailored freeform lens design using Camber Technology with personalised frame/facial measurements (such as BVD, Panto and Bow). WIDEVIEW CONFIDENCE SUPERIOR lenses offer rapid adaptation for new and existing wearers. 
WIDEVIEW CONFIDENCE SUPERIOR and SUPERIOR S lenses offer improved aesthetics due to the unique variable front base curve of the lens helping to reduce both thickness and weight. Combining this variable base curve on the front side of the lens with the latest surfacing techniques applied on the back surface, WIDEVIEW CONFIDENCE SUPERIOR
provides remarkable visual performance.
KEY BENEFITS OF WIDEVIEW CONFIDENCE SUPERIOR LENSES:
Varied front base curve Camber Technology
Smart Add Technology to enhance reading area
Fully personalised to the wearer
Significantly reduces edge blur
Offers improved aesthetics
Rapid adaptability for new and existing wearers
Simulates natural panoramic vision
Fitting heights available from 14-20mm*
* Please speak to your Business Development Manager for dispensing advice on fitting heights
AVAILABLE IN TWO DESIGNS:
SUPERIOR – HARD DESIGN
Suitable for existing wearers
Designed for wearers whose lifestyle requires emphasis on near vision
SUPERIOR S – SOFT DESIGN
Perfect for first time and existing wearers
Designed for general purpose / active lifestyle
Further reduced edge blur leading to ultimate panoramic vision
product availability:
Clear lenses 
Light intelligent lenses such as Transitions 
Sun lenses such as NuPolar
coatings available:
Infinity XT 
Hydro+ 
Blue Shield
DISPENSING INFORMATION:
To give you the full benefit of a personalised lens, your optician will take measurements with your chosen frame to ensure you receive a bespoke visual experience.