To welcome you as a new Jai Kudo customer we are offering a £100 account credit to the first 100 people who open an online account.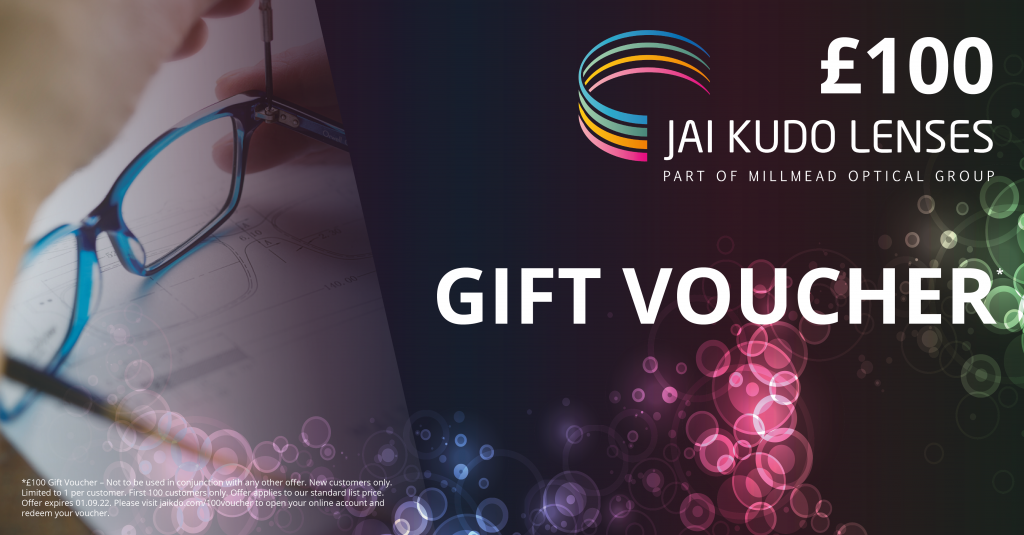 There are seven reasons why we believe that new customers will be impressed by our product quality and attentive service:
Sustainability
We are spearheading the move towards Sustainability in the Eyewear Industry. Our new Collaboration with Sustainability Designer Yair Neuman, and our project to highlight the issues of industrial lens waste through creativity will help to shine a light on this important issue. We are already using fully recycled packaging, polybags and making frames and cases from 100% recycled materials. We are investing heavily in finding a solution to recycle lens waste that currently ends in landfill.
2. Pricing
We remain very competitively priced within the market and our recently launched product & price list demonstrates this. If you would like to see a copy, please get in touch using the details in the letter and one of our Business Development Managers will be happy to arrange a call or in-practice visit.
3. Stock
We hold over 2 million lenses in stock, including a huge variety of coatings and finishes in both Sun and optical varieties. Please take a look at the enclosed catalogue to see the breadth of our range.
4. Consolidated Ordering
As an existing Millmead Optical Group customer, by ordering lenses from us you will benefit from a consolidated ordering process, saving time, cost and reducing your carbon footprint through lower packaging and transportation costs.
5. Breadth of Knowledge & Service
Our team of Business Development Managers possess industry-leading experience across all aspects of stock and surfaced lenses. Our Business Director Shaun Bace has worked in Ophthalmic lenses for almost 40 years and will be happy to help create a bespoke partnership arrangement which delivers you the best value and service.
6. Independent Ownership
Last year we celebrated our 25th anniversary as an independently-owned UK-based lens supplier. This sets us apart very distinctly from the competition, by allowing us to react very quickly to your requirements. It also means that we have your commercial interests at heart, in a confidential manner. We don't gather your purchasing data to help us build an Optical business that will compete directly for your business.
To redeem your voucher please type JK100 into the Voucher Code box in the registration form below: